Riding
We are now taking reservations as of May 18th 2021 for June and September 2021 weeks after a disastrous year in 2020 when no one arrived on any of our riding weeks due to the Pandemic and quarantine restrictions.
In these troubling times we want to give you the assurance that the Bourdil Blanc was rented during the summer months of 2020 and everyone was safe with very good sanitisation between rentals and a good stock of cleaning materials and masks to ensure safety . The South West is a very safe region in France with very few cases and deaths and as I am sure you know a very lovely place to ride
Our cancellation policy is that if customers find that they cannot arrive at the Bourdil in 2021 as there are restrictions and the FCO advises against all but essential travel to their destination then customers can have the option of a credit note so that they can postpone holidays to a later date up to 18 months in the future . Customers cannot request a cancellation for any other reason.
For all those holding credit notes from 2020 these can be used in 2021 and if you cannot come due to the quarantine restrictions and FCO advice then you will be reimbursed at the end of October 2021
2021 dates are published on the date page
Our riding holidays take you into the heart of the Dordogne in south-western France near the town of Bergerac. You ride across some of the region's most beautiful private estates, following routes and bridle paths through native forests, hidden valleys, vineyards and meadows, returning each evening to the delightful manor Le Bourdil Blanc. To maximise your riding range, on some nights the horses camp out en route.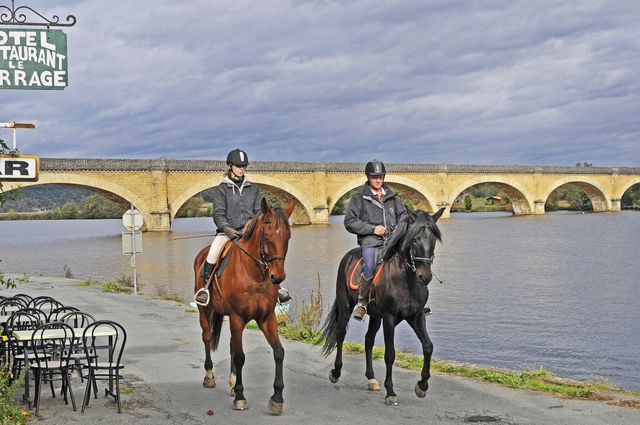 Week-long riding
A standard week-long riding holiday consists of 5 days riding, though if you wish to have a day off, or ride for just half a day, this is easily arranged, it is after all, your holiday. We are happy to tailor the standard itinerary to suit you where practicable, and we also offer a progressive route for private groups, please contact us for further details. For those pressed for time a good alternative is a short break of 3 and 4 nights which include 3 to 4 days riding.
Dates
There are set riding weeks as indicated in Dates, early April to the end of June, and early September to the end of November – please note there is no riding in July or August as it is too hot.
Groups
Alternative weeks may be possible for group bookings of 6 or more riders, subject to availability. If the set dates don't work for your group, do please contact us.
The Guides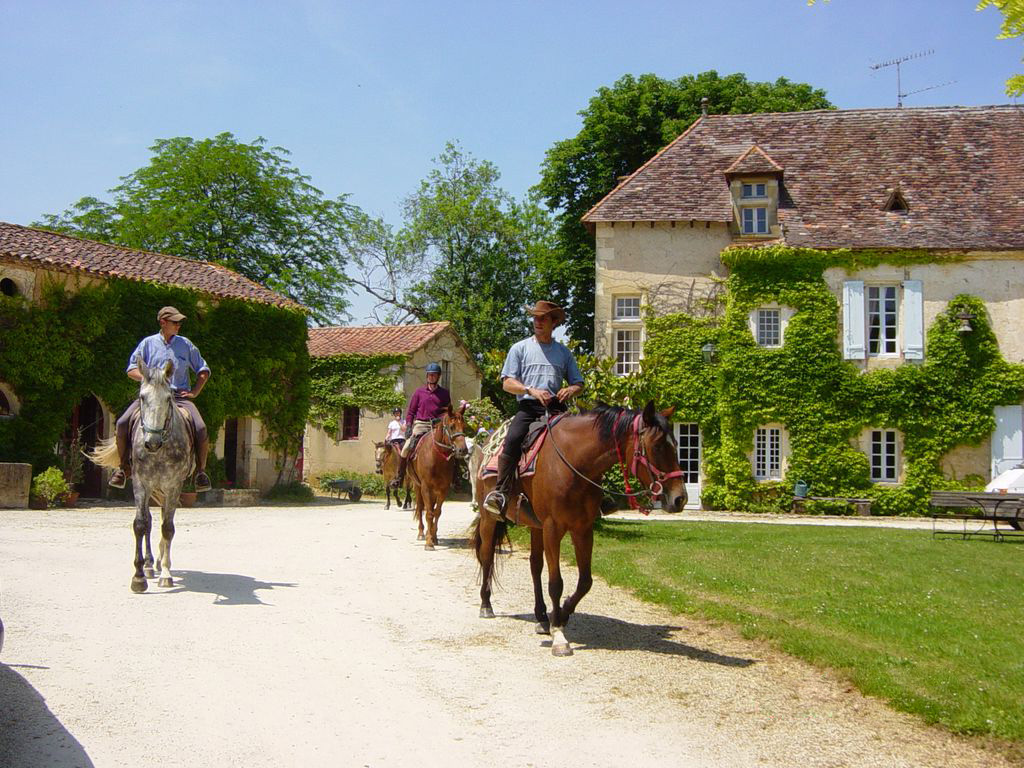 On each ride you will be accompanied by Antoine Delpit and his assistant. Antoine trained at l'Ecole National d'Equitation at Saumur and is your French licensed "moniteur" bringing with him full accreditation which is a legal requirement for all riding establishments in France. Antoine and his assistant are experienced, accomplished riders who know the local countryside, regional culture and history well. They are your guides and have total responsibility for your safety and enjoyment at all times.
The safety of our riders and horses is of paramount importance. It is essential therefore that you follow the instructions of the guides at all times, which naturally are kept to a minimum.
Typical day
On a typical day you spend between 4 and 6 hours in the saddle and, as one would expect on a riding holiday in France, lunch is one of the daily highlights! Around 12.30 you stop for an hour or so for a great picnic often served in the grounds of, or within, a chateau. Far from a packed lunch hauled from a saddle bag, this is a splendid affair freshly prepared by our own cook, Bernadette, and typically consists of various country salads, regional delicacies (including foie gras), locally baked bread, fresh fruit, and of course the best local Bergerac wines. In the rare event of bad weather, we stop at local auberges for lunch.
Non-riders
Non-riders in the party are extremely welcome to join the lunchtime feast, so they too can experience the chateau lifestyle and trade news of the morning's adventure. Once both horses and riders are fully rested they head off on the afternoon ride exploring new country and building up an appetite for dinner, whilst the non-riders have the afternoon to follow their own agenda, all meeting up for pre-dinner drinks at Le Bourdil Blanc.
Riders
Experience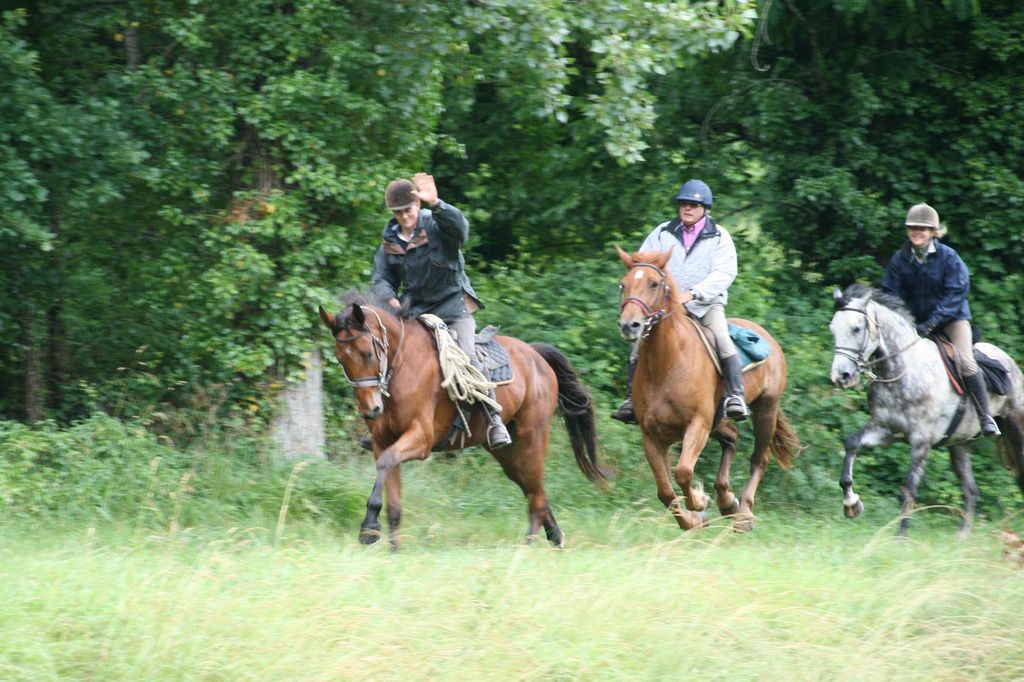 The riding is English style, with an average of 5 hours riding a day crossing varied and sometimes steep terrain. You need to be reasonably saddle-fit, and must be an intermediate or above rider who is comfortable, balanced and secure in the saddle and able to control a well-schooled horse in open country at a walk, trot and fast canter. There is a good choice of horses for riders of an intermediate ability, with some of Antoine's own horses sometimes available for experienced riders.
As the riding hours and pace can be adapted to suit riders' ability to a certain extent, some confident but more novice or young riders may also be taken - though all participants must have a reasonable amount of previous riding experience, including riding out in a group over varied terrain at a variety of paces.
Horses will be allocated on the first day and there is a chance to try them in the paddock, or on a short ride with Antoine, before setting off to ensure a good match.
Rides are usually run for as few as 4 and no more than 8 riding guests. We try our best to group riders of similar ability, so please take care when filling out the riding assessment form as less experienced riders may affect the enjoyment of fellow riders.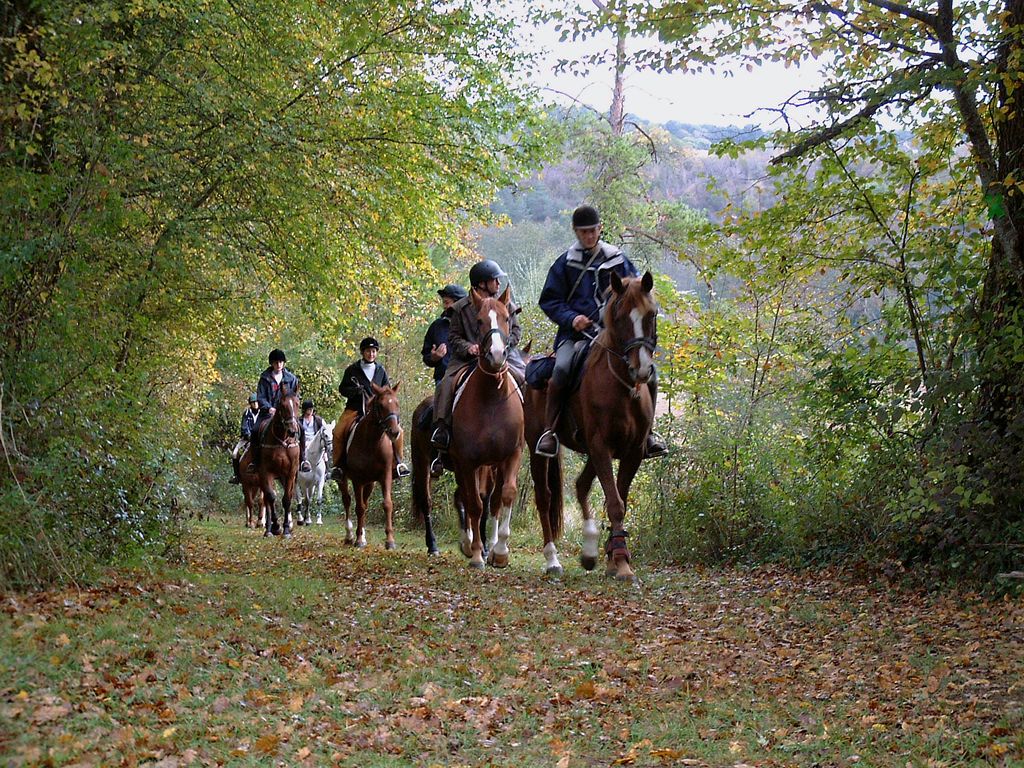 We regret that we cannot accept beginners and we normally impose a weight limit of around 96kg (210lbs or 15 stone). If you are there or thereabouts do please get in touch to discuss options.
Riders will be shown the daily routine with the horses on the first day and are then very welcome to help prepare, tack up and un-tack their own horse each morning and evening, although this is not compulsory! Antoine speaks good but not fluent English and some knowledge of French will add to the pleasure of each ride. Jane, your English host at Le Bourdil, who does not ride will meet you for picnic lunches and is happy to interpret should you need a hand.
Pace
This is usually medium and well varied. Routes take you from village to village, through woodland and along forest tracks where there are regular opportunities to trot and canter. The local environment of forest, fields of crops, vineyards and small villages means canters may be short and you often need to ride in single file, but you will move on where the going allows.
Terrain
This region of France is thick with private chateaux and much of the riding is through these country estates and over private land, with some routes passing through villages and farmyards.
The countryside itself is rolling with forested hills, valleys, vineyards and grassy meadows and there are miles of wide tracks through the forest as well as narrower paths that wind through woods, along river banks and skirting cultivated land, so it is important to follow your guide's lead to avoid destroying the hard work (and goodwill!) of the farmers who grant us exclusive access to their ground.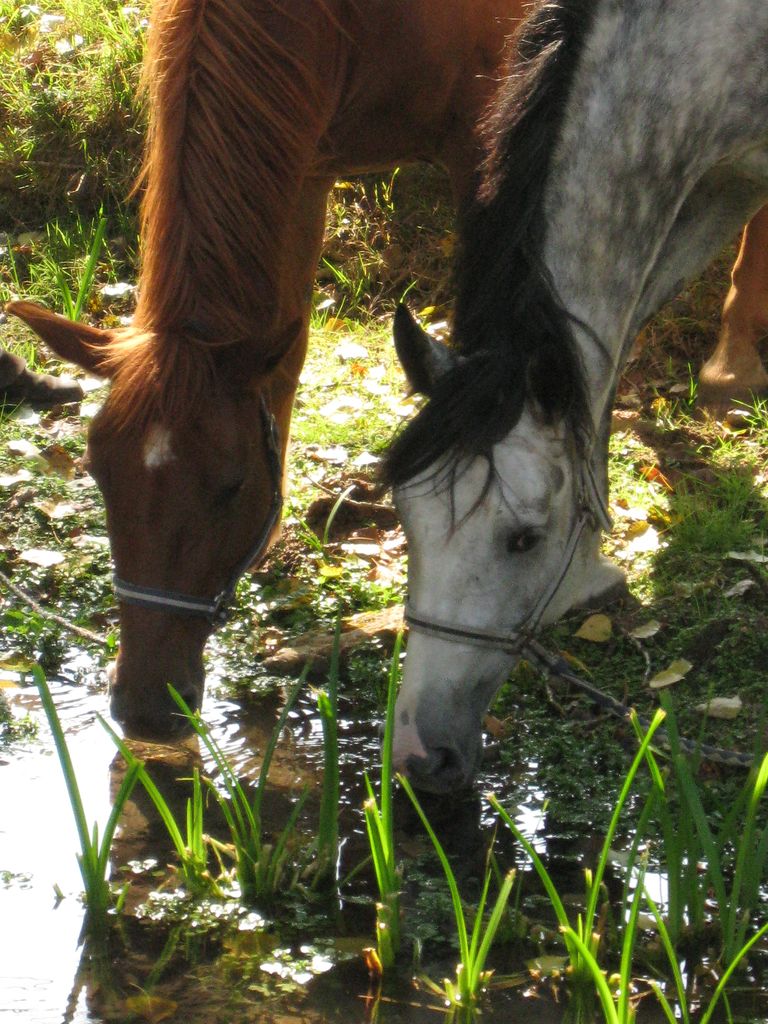 We have taken great care to plan the weeklong ride to ensure experienced riders have the opportunity to enjoy long energetic trots and exciting canters, as well as relaxing walks to soak up your surroundings. Please note that while we keep riding on tarmac to a minimum, there are occasions on which you ride down quiet country lanes and through sleepy villages. The routes taken cover new ground as far as possible rarely covering the same ground and then only for the shortest of distances.
Children are accepted by arrangement with the minimum riding age generally 12 years old, except for family or private group bookings for the whole house when younger children may be taken.
Non-Riders
Le Bourdil Blanc is an ideal venue for riders travelling with non-riding companions, they can relax at the house, make use of the swimming pool and tennis court, or explore the local area, where there is much to see, by car meeting up with riders for picnic lunches if they wish. We are happy to help you plan your days.
We are delighted that you are interested in our riding holidays. If you would like more information on the horses, the rides, dates, or anything else on our website, please click on the "booking form" button above, and we'll get back to you as soon as we can. We welcome any questions and are delighted to be able to tailor our set rides for individuals, and offer bespoke progressive itineraries for private groups.